We invite you to visit a wondrous world which artfully combines ancient and European cultures. Built in 1830 and restitutionalised in 2000, the Hotel Saint Petersburg offers spacious, comfortable rooms. The Hotel is located on an exclusive place on the Tepla River not far from Carlsbad's drinking colonnades, opposite the Grandhotel Pupp.

Our hotel is a seven-flour building. That includes:
- Restaurant
- Hall and reception on a ground floor
- Accommodation: 2 Single rooms, 18 Double rooms, 4 family rooms
- Elevator
- Relax center
- Massage room

In hotel there is an opportunity of choice the type of a meal (a breakfast, a breakfast and a dinner, three meals a day).

Room amenities:
- Bath (shower/tub, hair dryer, toilet-bidet)
- Telephone
- Satellite TV
- Liquid crystal TV
- DVD-player
- Minibar
- Safe
- Wi-Fi internet (in rooms for an additional payment, in a hall and restaurant free of charge)

In hotel there are rooms for smokers. There is an opportunity of accommodation of the third bed.
Cleaning of number is made daily, change of linen - 2 times a week. Change of towels - daily or under the request of tourists.
Check in 12 o'clock a.m. Check out - 11 o'clock a.m.
In hotel it is possible to order a transfer from the airport, railway or bus station in Prague or Karlovy Vary in our hotel and back.

Our Suites Premium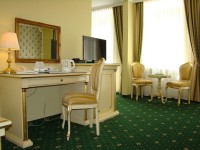 Our Suites Classic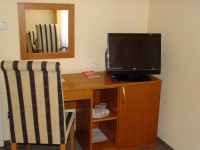 Our Doubles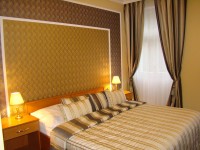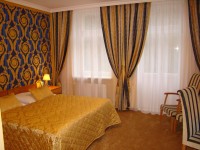 Our Singles